Kiley Posted on May 05 2021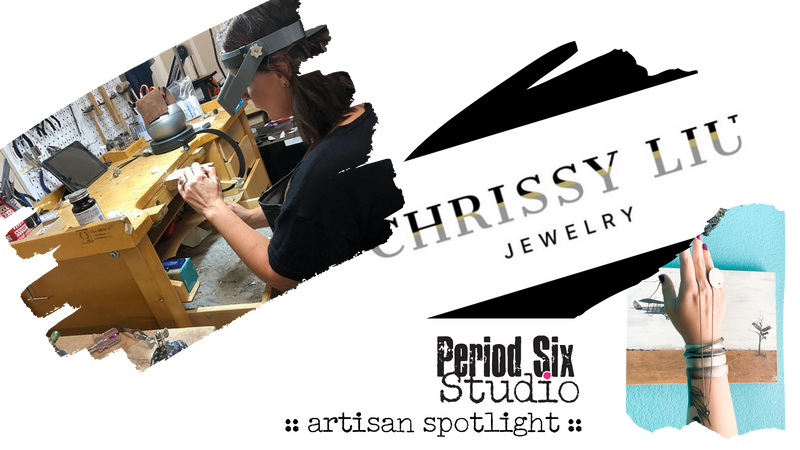 When it comes to creative journeys, we're suckers for the major career change. There's something about stepping away from comfortable or a bad fit and choosing creative happiness that speaks to us.
Chrissy Liu Jewelry has one of those stories and we're grateful that Chrissy entertained a few questions from us on the topic and agreed to be featured in series of spotlights on mom-owned businesses.
In October of 2018, Chrissy Liu followed in the footsteps of her self-employed parents and made her passion a business. Naturally full of entrepreneurial spirit, Chrissy had left her career in oncology healthcare administration to be a stay at home mom, but it wasn't long before she had opened up shop. A metal smithing class she took as a creative outlet captured her love of fashion and jewelry. Bonus, by making her own jewelry, she could revel in the big, bold and unapologetic pieces the fashion world had said weren't "right" for her five-foot frame. It's this spark that drew us to Chrissy and her jewelry.
From her use of Fordite stones to the way she repurposes metal from old jewelry to make new, or her use of the Keum Boo Korean gilding technique each piece of Chrissy Liu Jewelry embodies a story we want to tell! Make sure to check out the collection of pieces we currently have on hand below after getting to know Chrissy a little better.
:: You've said you were hooked on metal smithing after the first class, what called to you? 
I have always loved jewelry.  I learned about the value of investing in it from my mom.  When I started working in my first job out of law school, one of the first things I bought myself was a nice watch and years later, I wear it with pride knowing that I worked hard, saved and invested in a piece that will last.  Learning to make jewelry gave me the opportunity to create pieces that I didn't see in the marketplace and I loved that aspect of creating.  
:: What does time in your studio look like?
My grandmother passed away a few years ago and left me all of her jewelry (as I was the only girl grandchild), and a small amount of money.  I used that to invest in tools, equipment and a jeweler's bench.  I love my little space and it has everything I need.  
:: It sounds like motherhood had a big role in your career change and the birth of Chrissy Liu Jewelry, how does being a mom influence the work you're creating? How does it influence how you see your business growing?
I lived on the east coast for many years and got my career started in Washington, DC.  There were always work events, happy hours, and this innate sense of being tied to your email at all hours. When I chose to leave my career to be a stay at home mom, I had a really hard time adjusting because I had her later in life and really spent so much time defining myself and my success by my career accomplishments.  That all changed when I became a mom.  When I started creating jewelry, I didn't want to lose my style of big and bold so I had to create pieces that not only stood out, but also could withstand mom life.
:: I'm sure 2020 threw you a few curve balls, what adaptation did you make that you're most proud of? 
I am proud that we were able to have our little one at home with us 24/7 and that I managed to be a stay at home mom and keep my business growing too.  Philanthropy is a bit part of my belief system, so I am most proud that I created a VOTE series of pieces that sold really well last year.  From the sales I was able to make a donation to a non-profit civil rights legal organization fighting for voting rights. 
:: Anything else you'd love Period Six fans to know? 
I believe there are no rules when it comes to fashion and jewelry.  I feel like social media really forces people into trends, and while some of that is great, I think we've lost a bit of our individuality because of that.  So I say, step outside of the box when it comes to jewelry.  
p.s. Thank you again to Chrissy Liu for her time! We hope your enjoy her work! Pop over to our Instagram story highlights for a #quicksix fun & silly questions with Chrissy.