Kiley Posted on May 08 2021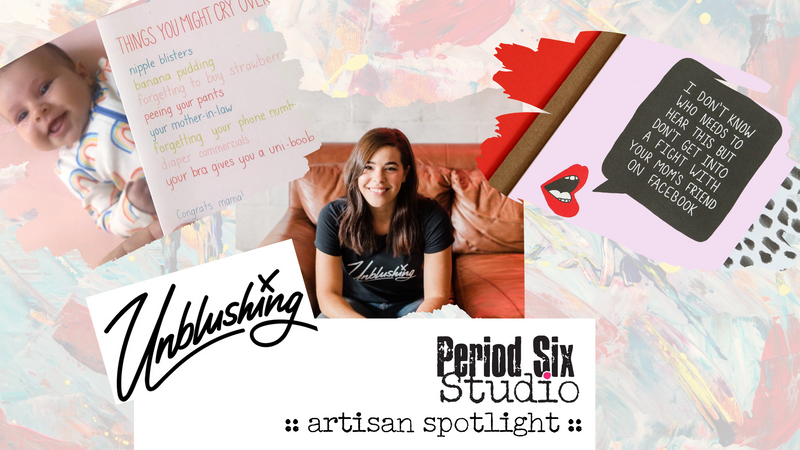 meet julie richardson of unblushing. 
Julie Richardson is the perfect example an "accidental entrepreneur," a term she uses on her website and that we couldn't help use here.
In 2008 Julie opened up Julie Ann Art on Etsy as an outlet for her creative hobby and moved from painting canvas to designing cards. Cards gave her the ability to design with a specific purpose in mind and have the added bonus of helping others expressing themselves at some of life's biggest moments.
Julie Ann Art drew the attention of People, Bored Panda, Refinery, and a certain gift shop that you love! Like these well-known publications, we were charmed by the irreverence, blunt affection, and raw artwork. In 2019 Julie Ann Art became Unblushing – a name that captures the spirit of Julie's stationery and gifts.
Some of our favorite Unblushing cards are those that deal with parenthood, so naturally, we've included a little Q&A with Julie in our series of mom-owned businesses this Mother's Day.
:: Your brand has grown a lot since you started on Etsy, how do you stay inspired and creative?
My inspiration definitely ebbs and flows, depending on the season, my life, the world, etc.. I've learned to not force creativity and to be accepting when I'm not feeling inspired. My best ideas come when I'm not seeking them.
:: When did you become a mom? How has being a mom changed how you work and/ or what you create?
My daughter was born in February 2020 and since then, the concept of time does not exist. I was previously taking on the majority of the business on my own from my home office but since becoming a mom I've had to adapt and hire help. Outsourcing work is something I always used to drag my feet on, but it has been worth it to be able to spend more time with my daughter.
:: I'm sure 2020 threw you a few curve balls, what adaptation did you make that you're most proud of?
I feel like managing becoming a mom on the cusp of a global pandemic is a pretty solid achievement on its own. :] Business-wise, I'm proud that Unblushing was able to help our customers keep in touch from a distance with the use of our greeting cards. Some may question the future of paper but I'm proud to offer a product that is dependable and classic.
p.s. We think it's an achievement too! Thank you Julie for your time! Be sure to catch a fun #quicksix more questions with Julie in our Insta highlights.