Kiley Posted on March 21 2021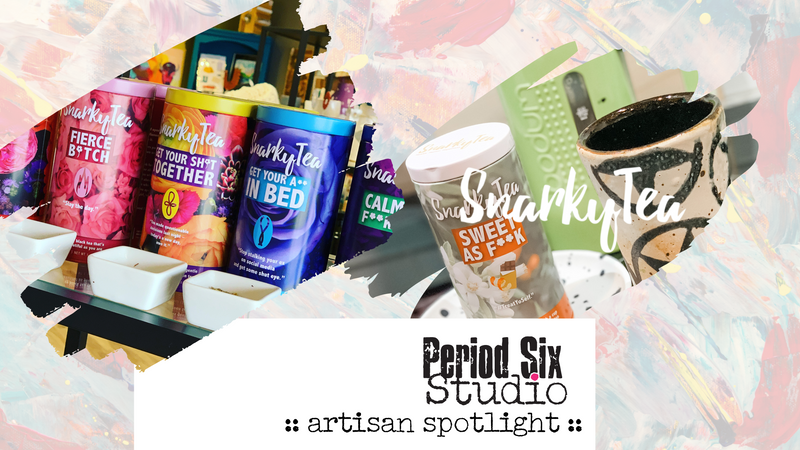 Reason #672 that a global pandemic and 2020, to put it mildly, really bummed us out – we were sold out of Snarky Tea and didn't know when we'd be able to source more.
 
But, fear not, the snark is back! In honor of our joyous restock and Women's History Month, we thought it'd be a great time to introduce/ reacquaint you with this awesome artisan company.
 
In their own words, Snarky Tea makes
"strong tea for strong women. We believe the best workouts are belly laughs, fighting self-doubt, and chasing what you love. We believe mental wellness is physical wellness, and what a better way to find balance than in a cup of tea?"
And you know what? We agree - that's why we love it!
In 2016, Founder Jenni-Lyn Williams was powering through busy mom days, working, and earning her MBA, on coffee fumes. She'd had enough of the anxiety and jitters the coffee was causing and needed to switch from coffee to tea, but woefully she couldn't find any teas that really spoke to her. As her site puts it, "the tea brands she saw in stores sounded like they were created for woodland fairies, not real women. Jenni-Lyn couldn't find functional tea options that fit her personality, so she created her own; and Snarky Tea was born."

In 2017 Jenni-Lyn courageously pitched her products to the Sharks on Shark Tank. She was amazing, her product was snarky enough, and she caught the attention of Kevin O'Leary and Bethenny Frankel. We love this interview Jenni-Lyn gave with Mr. Wonderful himself on Tampa Bay's Morning Blend. https://www.youtube.com/watch?v=1uxm1BItM2A From the clips of her Shark Tank appearance (we love that she's pregnant and unabashedly herself from the moment she walks out) to O'Leary's serious endorsement of women- / mom-owned business it's worth a watch. It's no wonder that Snarky Tea took off after that!
Now, we don't want to disparage woodland fairies (or any other fairies, for that matter) but we're awfully glad one badass mom blessed the world with such delicious snark!
p.s. We love drinking Every. Single. One. of Snarky Tea's blends, however at the time of writing this, Period Six owner, Kiley is sipping away the newest addition to the line, Sweet as F**K out of her favorite mug by Nathan Falter.  If the name alone didn't entice you, here's a "taste" the tin's message, "It happens every time. You're minding your own business, polishing off a family sized portion of pasta and half a loaf of Italian bread, when suddenly a quiet voice from deep inside your soul begins to speak. ... FEED ME CHOCOLATE..." Nuff said.