Kiley Posted on April 20 2021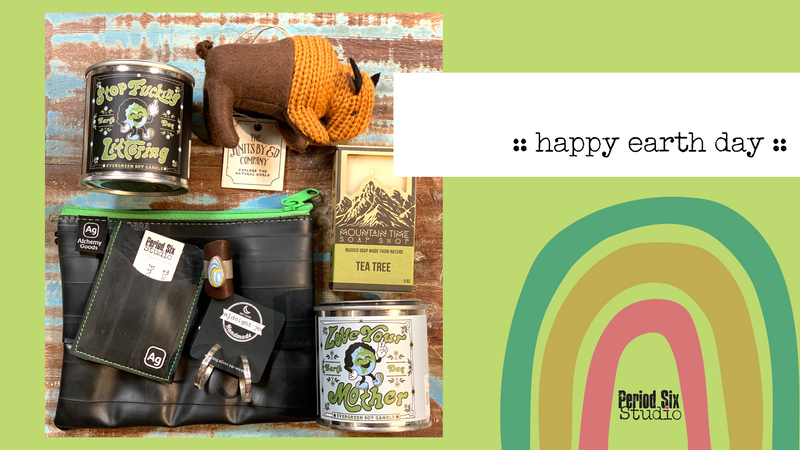 Is it loud in here or is it….?
Never mind, it's loud in here and we all feel it.
It's hard to hear anything worthwhile when every direction you turn, there's a new should you should be doing.
 "I should" be a better listener-spouse-mom-baker-ally-employee-hydrated-friend-influencer-teacher-more-in-shape-fill-in-the-blanker….
 And it feels like what you're really saying is, "to be a good person- I should fix *EV-ERY-THING* and do it with a smile, the sheer power of will, and hustle." (Don't get my exhausted-baby-mom brain started on hustle.)
 Is it any wonder that more often than not, we fall short of these unachievable high (and ambiguous) goals? When we inevitably do, we feel as though we've failed. Or worse we give up on even the little strides we were making.
Being more environmentally conscious is one of these areas we should be better in - at least that's what my very loud internal monologue says.
I'm lucky to live somewhere like Colorado where the capital 'E' environment is ever present in my life that it is second nature to treasure and protect it. Many of my fellow Coloradans feel the same way, so there's no shortage of suggestions on how to go about it. Before 2020 these suggestions felt overwhelming, but even habits that had become routine fell apart in the pandemic. I literally cried (thanks postpartum hormones) over not being able to balance cloth diapering with running a business and mourned the cessation of my go to, morally bolstering, everyday sustainable options. I just want to hand my Yeti to a barista again and skip through the bulk-bin aisle with my cloth bags. I'm just a girl ordering to go and asking it to be packaged in my stainless steel bento box.
And while I navigate more big picture projects like ways to add solar to my house and choose all reputable, eco-friendly branding materials and practices at Period Six, I find myself needing to scale down to avoid abandoning all efforts in my overwhelm.
So, in honor of Earth Day let me share with you a few EASY crunchy changes I've made both personally and at Period Six that keep me from throwing in the towel.
1. Fully using what I already have.
This shouldn't be such as 'aha moment, but it bears talking about. It also feels damn good when you finish something off. I made a conscious effort to use up toiletries, cleaning supplies, foods, and other items I had unintentionally stock piled. Many of these were partially consumed and abandoned for something new or shiny and had no flaws keeping them for being used. Bonus – doing this also has a great impact on cleaning. You know what you have, the shelves get cleaner and eventually you can get something new that you're actually excited about!
2. Upgrading some high-use & single-use products to a reusable options.
Get creative! There's a ton of options out there for whatever your lifestyle. Personally my favorite examples are items in my daily routine like cotton balls and cotton swabs. I love these
Cotton Facial Pads
from friend of Period Six, Be My Clementine and have gotten a
LastSwab
for many of many of my family and friends!
3. Channel Marie Kondo, Home Edit, or Guru of your choice and love what you've got or find it a better home!
With more time at home, I am delighting in "merchandising" my home: organizing closets and drawers with boxes I've fortuitously saved and displaying my belongings to show off their colors! If you've ever shopped in person at Period Six, you can see this in the way we display the store as well. You never know what item is going to become the focal point in one of our displays!
Pro tip - once your done eating our delicious treats from
Wes Candy Co.
, these cute jars are PERFECT for organizing! 
3.5. Truly a better home!
Find places to donate your belongings that make you feel good. A favorite of local non-profit of ours is the
Jefferson County Action Center
. Find these places that are doing good and shamelessly share them. (No, really, we'd love to hear about them! Find our Earth Day post on Instagram and tell us, and we'll share!)
4. Stop beating yourself up and make the best choice available.
Repeat after me. "I promise to make good choices when I can, learn new tricks, and keep moving forward." After all, it's stringing together these choices that make real change. Would we all like to achieve absolute perfection? Sure, but let's be more gentle with ourselves, yeah? Treat yourself to one good choice and then another. As my husband is fond of saying, "Progress, not perfection." For us, this is one reason we don't purchase new boxes to ship in. The beautiful things in our store usually get here in boxes and with material perfect for reusing – heck, sometimes it's been reused multiple times before it gets to us! (the maker community is the most thoughtful bunch!) Sending these boxes back on the road is a small choice we make with great intention, but the beauty is in making the good choice and clearing the brain space to get ready for the next one.
5. Choose products and brands that bake sustainability into their practices.
Remember when I said you could buy something new and exciting? What about something new that embodies your values? That is truly something special!
Below are some of our artisan brands at Period Six that focus on sustainability, although not a comprehensive list by any means. Even our card artists often choose soy inks, post-consumer waste-recycled paper, and vegetable (as opposed to cellophane) sleeve options.
We've created a gallery of some these artisans, but to give you a snapshot, take a peek at
Mountain Time Soap Shop
:: Golden, CO :: zero-waste packaging and zero chemicals ::
Good & Well Supply Co. 
:: Pacific Northwest :: Earth Day candle collection is exclusively poured in the imperfect cans and benefits
Earthjustice
 :: 
Alchemy Goods
:: Boulder, CO :: upcycles old materials like bike inner tubes into new sleek, functional accessories ::
The Moore Family Folk Art
:: Denver, CO :: upcycled bottle cap folk art :: teaching entreprenership and sustainability through art ::
Happy Habitat
:: Kansas City :: pre-consumer recycled cotton throws, carbon neutral company ::
Knits by Ed
:: Bloomington, IN :: recycled knitted art, small batch, benefits endangered wildlife and donates to protect high-risk habitats world wide ::
Chrissy Liu Jewelry
:: Lakewood, CO :: recycled metals into new bold jewelry! :: 
---- stay tuned for our Artisan Spotlight on Chrissy Liu Jewelry late April 2021----
p.s. This is not a sponsored post. All product recommendations outside of Period Six offerings are the author's opinions.