Kiley Posted on August 20 2017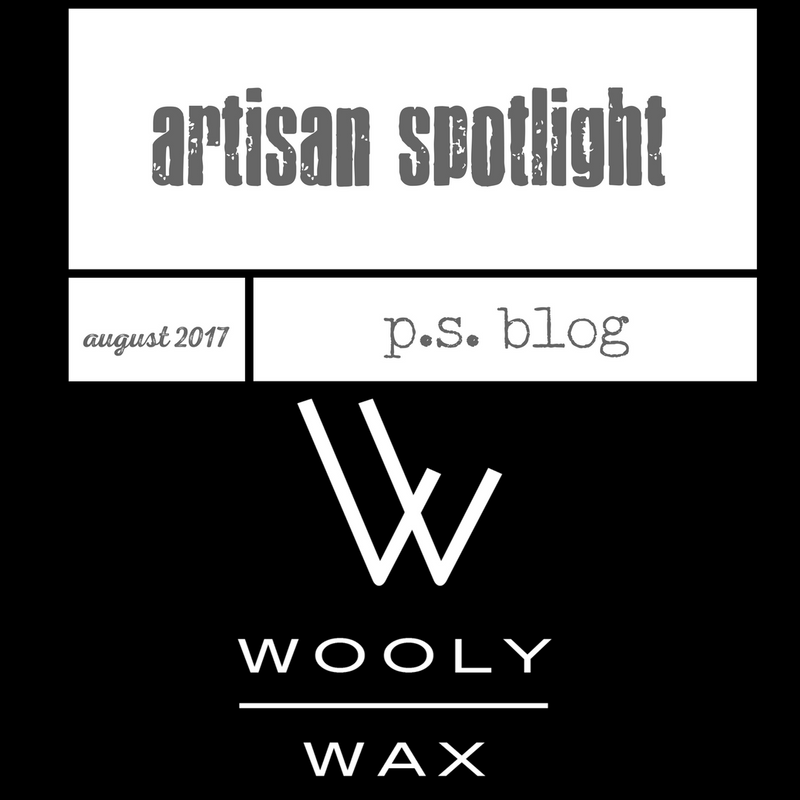 The journey building up to this month's artist spotlight was a blast and boy, did it smell amazing!
One of our favorite ways to look for new Period Six artisans, is through the finely honed practice of mother-daughter time-wasting. While it gets called 'time-wasting' by the rest of the family, we can find no better way to spend an hour than exploring an eclectic neighborhood, uncovering hidden wonders. We delight in getting off the highway to see what, or who rather, is telling a good story. These detours have lead us to a boutiques, markets, studios and some really interesting, talented people. 
:: Following our noses ::
This is how we came across a candle line we simply couldn't forget and knew we wanted to put on our shelves. Enter Wooly Wax Candles.
Wooly Wax Candles are handcrafted using "essential oils and the finest fragrance oils that are phthalate- free. NO parabens, NO sulfates, NO animal testing, NO dyes or chemicals. Just love." The 6 oz candles have a satisfyingly long burn time and most importantly, the way owner Rachel Woolcott tells vibrant stories  through scent profiling is pure magic. 
:: Meet Rachel ::
Rachel's 20+ years as a chef fed her curiosity about the relationship between taste and scent profiles. Working backwards from memories, she creates "aromatic scent profiles that have unique layers of meaning." 
I create scents that remind me of different parts of my life -- like as a kid, when I sneaked into my father's study, which always seemed to be soaked in a comforting bouquet of leather, wood and Scotch -- this combination was the inspiration for the Wooly Wax Burmese Teakwood candle. San Francisco Fog was inspired by memories of growing up surfing and detecting the differences between the essence of early morning, damp, dewy sand and late afternoon onshore breeze. 
Attention to detail and bridge between artistic expression and human experiences is the key ingredients in what we look for and this line embodies that. So when Rachel suggested we visit head quarters and create a candle exclusively for Period Six, we jumped at the opportunity.
:: Wooly Wax HQ :: 
Mom (you can call her Ann, but I just can't make it happen... even in writing) arrived at Wooly Wax's new location not knowing exactly what to expect, but found a gem in Denver's Tennyson neighborhood. 
We may not have known what to expect, but were quickly blown away. The aesthetic of Rachel's work space and the scent profiling experience itself was exciting and memorable. 
The three of us fell in to an easy banter as we smelled candles, oils, and even a little whiskey. Meanwhile Rachel scribbled notes, nodded knowingly and jotted formulas. She listened carefully to what we were reacting to and the memories different scents conjured up. The result of this experience is a delicious Wooly Wax - Period Six exclusive collaboration candle. 
We're please to welcome Wooly Wax to the Period Six family and can't wait to see what future collaborations take place!
See more of the Wooly Wax collection!
 p.s. You can subscribe to Period Six's 'post script' blog RSS feed by using https://periodsix.com/blogs/post-script.atom